Places to visit in jalandhar .
What are the best places to visit in Jalandhar to have lots of fun
here is my answer
1. Wonderland jalandhar Theme park : wornderland is an amusement park with various water sports and exciting water rides. The Theme Park encompasses a huge area of 11 acres with various enthralling rides that provide wholesome entertainment to people belonging to all age groups. Some of the water rides of the Wonderland Theme Park are flying dragon, boating, bumper cars, flying jets, play house, horror house, kiddies' boating, slide splash and many more. The Water Park remains closed during the winter season as the temperature drops very low in Jalandhar.
One of the main attractions of the Jalandhar Wonder Land is the wave pool. The aqua dance floor is another interesting place to be, where one can see people dancing on the music of the recent Punjabi hits. This aqua dance floor is covered by artificial clouds from where the water is poured in the form of rainfall. There are fixed timings to enter the amusement park, which is between 9.00am to 10.00pm in Dry Park, while for the water park the timings are between 12.00 pm to 8.00 pm. All throughout the year the Dry Park of the Jalandhar Wonder Land is open for visitors.
Jalandhar Wonder Land is located at a prime position in the city and can be accessed very easily. It is situated nearly 6 km from Jalandhar Bus station and the Railway Station on Nakodar Road is just 8 km away. It is an ideal destination for a break from the day to day boring life.
WonderLand Jalandhar – Entry Fee, Timing, Address, Official Website
Address : Nakodar Road, After Wadala Chowk, Jalandhar, Punjab 144001
Entry fee for Water Park & Rides : Entry Fee (HEIGHT ABOVE 3 FT.) Rs.950
Entry fee for Dry Park : Entry Fee (HEIGHT ABOVE 3 FT.) Rs.850
Timings : Visiting Hours – 10am–8pm
Phone No (Official) 0181 279 1420
Official Website : Wonderlandpark.com
offical map : wonderland map
Photography allowed or not : Not Allowed
Nearest railway station Jalandhar City Railway Station
want To visit WonderLand easy book taxi or car etc visit Book now taxi or car or other vehicle at Low price
images of wonderland source = google images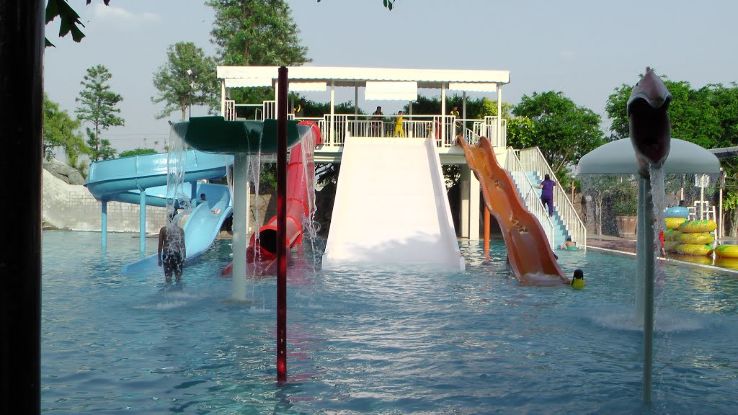 ---
2. Devi Talab mandir Jalandhar : A must visit place in Jalandhar, Devi Talab Mandir is dedicated to Goddess Durga and is believed to be at least 200 years old. Mata Tripurmalini Mandir is situated within the temple premises and is among the 51 Shakti Peethas of India.
Legends and history of this divine abode are associated with Maa Sati and how she sacrificed herself after her own father, Daksha had insulted Lord Shiva. It is said that her husband, Lord Shiva then opened his third eye in anguish and danced (performed tandav) with his wife's body in his arms. In fear of the Lord's anger and to save the Universe, Lord Vishnu dispatched his 'Sudarshan Chakra'. As a result, Sati's body was cut into pieces that scattered on earth and each of these portions of the earth that received these pieces were blessed and honoured and are known as Shakti Peethas. Mata Tripurmalini Mandir marks the spot that received Maa Sati's right breast.
The old structure of the temple has been renovated and changed to how it looks today. New sections have also been added within the temple premises. There is a huge tank (called talab in Hindi), as old as the main temple and is the main attraction and reason why Devi Talab Mandir got its name. There is also a temple dedicated to Goddess Kali besides the main temple. Recently, a structure resembling the Amarnath Cave Temple has been added to the temple complex.
Besides faith and devotion, even the festivities bring visitors to the Devi Talab Temple. If you happen to visit Jalandhar in the month of December, do visit the temple and experience its annual "Harballabh Sangeet Sammelan". You will be engrossed in divine jugalbandi (confluence) of both vocal and instrumental music.
Just a kilometer away from Jalandhar Railway station, the temple is approachable and easily accessible.
offical website : Devi Talab Mandir | Devi Talab Jalandhar
map link : Devi Talab Mandir
images of mandir source : google images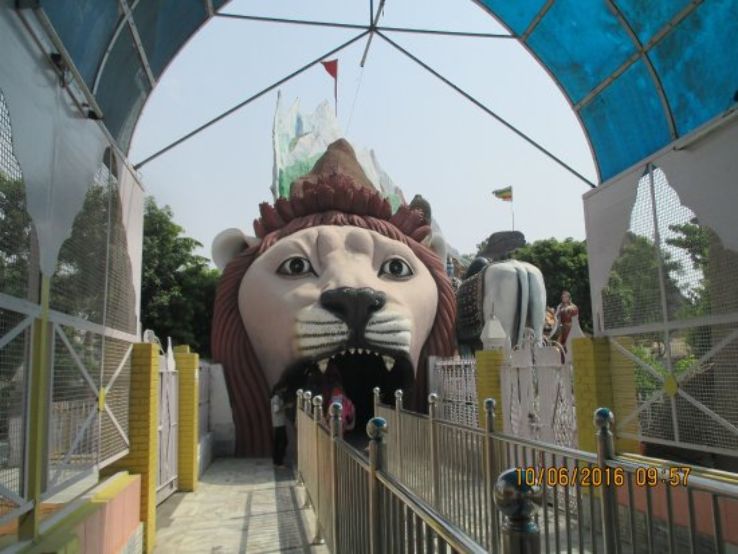 want To visit in Devi talab temple and nearby awesome place Easy book taxi or car etc visit Book now taxi or car or other vehicle at Low price
3. Jang-e-Azadi Memorial : The Jang-e-Azadi Memorial in Kartarpur is emerging as an educational and cultural hub of Punjab and drawing a large number of visitors, particulary youngsters.
The memorial, a tribute to the sacrifices of freedom fighters during the Independence movement, has attracted 3,50,000 visitors, according to an official spokesperson. Two phases of the memorial have been inaugurated, the second one in March, 2018.
The entrance foyer contains murals depicting eminent personalities of the freedom struggle and a model of the memorial for an overview of the project.
The murals also showcase the timeline of key events in the freedom struggle.
This is followed by a minaret holding the sacred and immortal flame of the martyrs of freedom movement.
A 15-minute animated movie with 3D projection technique in the galleries depicts the contributions of Punjab during the country's independence struggle.
The memorial icon, in the form of four petals taking inspiration from the 'phulkari' textile pattern of Punjab, honours the sacrifices of the freedom fighters.
A movie directed by the renowned film maker Shyam Benegal depicting Punjab's leading role in the independence movement is screened at regular intervals.
The memorial is open all seven days a week from 10.45 AM to 7.30 PM.
(This story has not been edited by Business Standard staff and is auto-generated from a syndicated feed.)
website : Jang-e-Azadi Memorial Jalandhar (Kartarpur)
map : Jang-e-Azadi Memorial
want to visit Jang-e-Azadi Memorial Easy book taxi or car etc visit Book now taxi or car or other vehicle at Low price
4. Gurdwara talhan sahib ji also known as Shaheed Baba Deep Singh Ji gurudwara : Shaheed Baba Deep Singh Ji is one of most honored martyrs of Sikh history. His parents, Bhai Bhagtu Ji and Mata Jeonee Ji, lived in the village of Pahuwind, Amritsar, India. They were hard working Sikh farmers but had not been blessed with any children. A Sikh saint told them one day that they would have a special child whom they should name Deep (meaning one who gives light). Baba Deep Singh Ji was born to them on January 26, 1682 (14 Maagh Sunmat 1739). Since Deep was an only child, his parents raised him with much devotion and affection.
At the age of twelve, Baba Deep Singh Ji went with his parents to Anandpur Sahib to meet Guru Gobind Singh Ji, the tenth Sikh guru. They stayed at Anandpur Sahib for several days, doing sewa (service) with the Sikh community. When his parents were ready to return to their village, Guru Gobind Singh Ji asked Baba Deep Singh Ji to stay with him. He humbly accepted Guru Ji's command and began serving him. While at Anandpur Sahib.
Baba Deep Singh Ji learned about Sikh philosophy and Sri Guru Granth Sahib, the Sikh holy book of scriptures. He learned gurmukhi (Punjabi script) and several other languages. Guru Gobind Singh Ji also taught him horseback riding, hunting and arms training. At the age of eighteen, he received amrit (holy water) from Guru Ji on Vaisakhi. As a amritdhari Sikh, Baba Deep Singh Ji took an oath to serve as God's soldier–Sikhs are to always help the weak and needy, and to fight for truth and justice. Baba Deep Singh Ji soon became one of Guru Gobind Singh Ji's most beloved Sikhs. Baba Deep Singh Ji stayed in Guru Gobind Singh Ji's service for about eight years. At Guru Ji's request, he returned to his village to help his parents. A year after his return to Pahuwind, a Sikh messenger arrived from Guru Gobind Singh Ji. Baba Deep Singh Ji was told that Guru Ji had left his fort in Anandpur Sahib after fighting with the Hindu hill rajas for six months. He also learned that the Guru's four sons and his mother, Mata Gujri, had all become separated. Upon hearing such disheartening news, Baba Deep Singh Ji immediately left Pahuwind to meet Guru Gobind Singh Ji.
Baba Deep Singh Ji met Guru Gobind Singh Ji again at Damdama Sahib in Talwandi. Here, he learned that two of the Guru' sons, Ajit Singh and Jujhar Singh, had lost their lives in the battle of Chamkaur. Guru Ji also told him that his two younger sons, Zorawar Singh and Fateh Singh, were cruelly murdered at the city of Sirhind, Punjab, under the orders of the Muslim governor, Wazir Khan.
Baba Deep Singh Ji had been summoned to Damdama Sahib to work with Bhai Mani Singh Ji to prepare the final text of Sri Guru Granth Sahib. Guru Gobind Singh Ji recited the entire Granth Sahib to them while they wrote the text. On its completion, Baba Deep Singh Ji hand wrote five more copies of the holy scriptures. Four copies were sent to Sri Akal Takht Sahib, Sri Takht Patna Sahib, Sri Takht Hazur Sahib, and Sri Takht Anandpur Sahib. Another copy was prepared by Baba Deep Singh Ji in Arabic script and sent to the Middle East.
Baba Deep Singh Ji was soon regarded as one of the most devout Sikhs of his time. While preparing copies of Sri Guru Granth Sahib, Baba Deep Singh Ji questioned Bhai Mani Singh Ji about a line of gurbani: "mitar pyare nu hal fakeera da kahna". Baba Deep Singh Ji felt that the line had been stated incorrectly because the Guru could never be a fakeer (beggar). He felt that the line should have been stated as "mitar pyare nu hal mureedan da kahna". Bhai Mani Singh Ji warned Baba Deep Singh Ji that in order to make an alteration to gurbani, he would need to give a part of himself in return. Baba Deep Singh Ji agreed to this, declaring that he was prepared to give his head for the sake of the panth. Therefore, Baba Ji was given the title of "Shaheed" (martyr) while alive.
In 1706, Guru Gobind Singh Ji placed Baba Deep Singh Ji in charge at Damdama Sahib, while Bhai Mani Singh Ji was made head priest of Sri Harimander Sahib in Amritsar. Baba Deep Singh Ji spent many years at Damdama Sahib preaching Sikh values and teachings and doing service for the community. He was always ready to serve those in need and to fight for justice. Baba Ji also continued to write gutkas (books of hymns) and distributed them to the Sikh community.
In 1707, Baba Deep Singh Ji joined Banda Singh Bahadur to fight for the freedom of Punjab. They fought together in the battle at Sirhind–the city in which Guru Gobind Singh Ji's younger sons had been killed. Although the Muslim army outnumbered the Sikhs significantly, the Sikh army was able to easily defeat the Muslim forces. During the battle, Baba Deep Singh Ji beheaded Wazir Khan. Later, when the Sikh forces were reorganized into twelve misls (groups), Baba Deep Singh Ji was appointed in charge of the Shaheedi division. As the leader of the Shaheedi misl, he achieved numerous victories for the Sikhs.
In 1716, the Sikh community became divided into two separate groups. One group, known as the Bandahi Khalsa, believed that Banda Singh Bahadur is the last Sikh guru, while the other group, the Tatt Khalsa, believed that Sri Guru Granth Sahib is the guru. These two groups began to dispute over control of Sri Harimander Sahib. Baba Deep Singh Ji was asked to help in reaching an agreement between the two parties. After speaking to both sides, it was decided by Baba Deep Singh Ji and Bhai Mani Singh Ji that two slips of paper would be written with each group's name on it. The slips of paper would then be tossed into the sarovar (pool of holy water); whichever group's paper stayed afloat the longest would be allowed to stay at Sri Harimander Sahib while the other group would agree to leave. Both parties agreed to this solution. Baba Deep Singh Ji did ardas (prayer) and let the slips float in the water. In a few minutes, one paper began to sink and soon disappeared beneath the water. The other slip, which remained afloat, was lifted out of the sarovar. The name on this slip was Tatt Khalsa–therefore, the Bandahi Khalsa wes forced to leave Sri Harimander Sahib forever.
In 1755, Ahmad Shah Abdali, the emperor of Afghanistan, attacked India for the fifth time. After looting many Indian cities including Delhi, he brought back with him gold, jewelry, and thousands of captured young women. When Baba Deep Singh Ji learned about this atrocity, he took a group of Sikhs and ambushed Ahmad Shah's forces. Baba Deep Singh Ji and his men freed much of Ahmad Shah's stolen goods and liberated the prisoners, returning them to their homes.
Ahmad Shah Abdali was able to escape to Lahore. Angered by the attack from the Sikhs, he decided to destroy the Sikh community. He appointed his son, Tamur Shah, as the governor of Lahore, and made Jahan Khan his general. In order to destroy the source of the Sikh's spiritual strength, he ordered Jahan Khan to destroy Sri Harimander Sahib. Following orders, in 1757, Jahan Khan proceeded to Amritsar with heavy artillery. Many Sikhs died trying to defend Sri Harimander Sahib but unfortunately the gurdwara and its surrounding buildings were demolished and the sarovar was filled with dirt and debris. Sri Harimander Sahib was then closed to all Sikhs.
At this time, Baba Deep Singh Ji was at Damdama Sahib. When he learned about this disturbing news, he immediately declared his intention of expelling the Afghans and rebuilding the gurdwara. He took a vow not to come back alive without fulfilling this mission. Baba Deep Singh Ji did ardas while promising to get to Sri Harimander Sahib:
"Sir jaave ta jaave, mera Sikhi sidhak na jaave" (If my head is severed, let it be, but don't severe my Sikh way of life)
Although Baba Deep Singh Ji was seventy-five years old, he still had the strength of a young warrior. He gathered a large group of Sikhs and advanced towards Sir Harimander Sahib. By the time they reached the village of Tern Taran, about ten miles from Amritsar, their numbers had risen to about five thousand. At this time, Baba Ji drew a line on the ground with his khanda, and asked only those who were willing to fight and die to cross the line. All of the Sikhs there crossed the line eagerly. Baba Deep Singh Ji then recited the shabad:
"Jo to praym khaylan ka chaao, sir dhar talee galee mayree aao." (Those who wish to play the game of love (follow Sikhism), come to me with your head in your palm.)
"It maarag pair dhareejai, sir deejai kaan na keejai." (If you wish your feet to travel this path, don't delay in accepting to give your head.)
When news of Baba Deep Singh Ji's intentions reached Jahan Khan, he immediately mobilized an army of 20,000 men and proceeded towards Tern Taran. Baba Deep Singh Ji's army intercepted Jahan Khan's forces near the village of Goharwal, about five miles from Amritsar. At this point, there was a clash between both sides. Baba Deep Singh Ji fought with his 18-ser khanda (weighing about 32 lbs.). Each Sikh fought with such great valor and courage that the enemy was almost defeated. During the midst of battle, a large army of reinforcements arrived for Jahan Khan's men, turning the odds against the Sikhs. Yet, the Sikhs with Baba Deep Singh Ji as their head continued fighting and advancing towards Amritsar.
During the clash, one of the Mogul commanders, Jamal Khan, attacked Baba Deep Singh Ji. As they fought, both men swung their weapons with great force, leaving both of their heads separated from their bodies. After seeing this scene, a young Sikh warrior called out to Baba Ji, reminding him of his vow to reach Sri Harimander Sahib. Upon hearing this, Baba Deep Singh Ji immediately stood up, holding his head on his left palm while holding his khanda upright in his right hand. He then continued fighting and moving towards Sri Harimander Sahib. Upon seeing the sight of Baba Deep Singh Ji, most of the men in the Mogul army fled away in terror. Baba Deep Singh Ji was able to continue fighting and reached Sri Harimander Sahib. He bowed his head at the prikarma (rectangular walkway) of Sri Harimander Sahib and lay there as a martyr.
Baba Deep Singh Ji's shaheedi incited the Sikhs to continue to fight against Mogul oppression for many years. Even today, his life serves as an example for all Sikhs on how to live and die with dignity.
website :
map : Gurdwara Talhan Sahib ji
5. Pushpa Gujral Science City known as Science City : Pushpa Gujral Science City is the biggest project of its kind in Northern India. It is set up in 72 acres of land, on the Jalandhar-Kapurthala Road. The city was built with the aim of educating the masses about the wonders of science in the most pleasant and entertaining manner. It helps in shaping the inquisitive mind of the youth in particular, by presenting the marvels of science and technology for public appreciation and understanding.
Almost every branch of science is exhibited in the Pushpa Gujral Science City, right from physical, applied, natural and social sciences to engineering, technology, agriculture, health sciences, energy industries, human evolution, ecosystem, jurrasic parks, nuclear science, information technology and biotechnology. Some of the main attractions of the park have been listed below:
Dome Theatre
In this theatre, large format films are projected on 23 meter-titled dome. The system uses 15 perforations and 70 mm film to shoot and project images with incredible sharpness. Semi-circular giant dome screens produce huge images that soar and swoop above, beside and behind you, to give you a spectacular, immersible experience.
3D Theatre
The Light-Speed 3D Digital Theatre is a modern method of capturing the imagination of today's media science-city visitors. It presents three dimensional computer graphics, videos and the most advances animations.
Amazing Living Machine Gallery
It presents the intricate structures and functions of the human body, using large human models. This gallery mainly consists of three important sections: Health Gallery, HIV AIDS Gallery and Biotechnology Gallery. Main attractions of the gallery are Transparent man theatre, Giant walk through heart, Countdown to birth, Interactive giant model of human cell, chromosomes, DNA model, Measure your pulse rate, Movement of your joints, Operation theatre, CT Scan, Breathe in and Breathe out and various other interactive biotechnology-based exhibits.
Simulator
The 30-seater Flight Simulator provides visitors a sense of adventure, through virtual expeditions to unknown places. It is a theatre-style ride simulator, where you can sit in the capsule and watch the computer generated film on the screen. The film appears so real that you begin to feel like being in the other world.
Laser Theatre
In this theatre, there is presentation of laser shows, which demonstrate the use of lasers in the field of scientific entertainment. It is very exciting, owing to the rarity of the actual usage of lasers in the country. These shows can take the visitors to the wonderland, where they will be able to experience the sudden shots of fog, with mind-boggling mix of sound and laser beams.
Dinosaur Park
It has been set up in a land area of 2.63 hectares. This park brings out the evolution of dinosaurs and the probable reasons for their extinction. The park is divided into three periods: Triassic, Jurassic and Cretaceous. All the varieties of dinosaurs are exhibited here, starting from the smallest known dinosaur" Compsognathus" to the giant dinosaurs like "Seismosaurus".
Besides the above-mentioned attractions, there is also a kid's park, which contains swings, rides, bouncers etc. There is also an artificial lake that allows the visitors to indulge in boating. With all the above-listed attractions and many more, the Pushpa Gujral Science City is a must visit tourist spot in Jalandhar.
thanks for reading if you want know more best places to visit in Jalandhar
click here https://www.hundredidea.com/places-to-visit-in-jalandhar